Last season marked the departure from Liaoning of CBA legend Lester Hudson who along with Stephon Marbury was one of the most successful import players in CBA history. Hudson had been the rock of Liaoning's championship caliber play for the past 6 seasons, leading the team to multiple finals appearances, a CBA championship, and winning CBA League and Finals MVPs along the way. Liaoning opted to go in a different direction last season, citing concerns about a possible age-related decline in Hudson's performance, and decided to go with a wing forward instead. The team signed a big-name in NBA small-forward Lance Stephenson but underperformed for most of the season, ultimately leading to the firing of long-time head coach Guo Shiqiang mid- season. Sporting one of the best domestic rosters in the CBA, Liaoning benefited enormously from the lack of imports in the league after the coronavirus hiatus. Newcomer shooting guard OJ Mayo quickly found chemistry playing with Liaoning's local roster, and Liaoning made a playoff run in the shortened playoffs before ultimately losing in the finals to CBA champion Guangdong.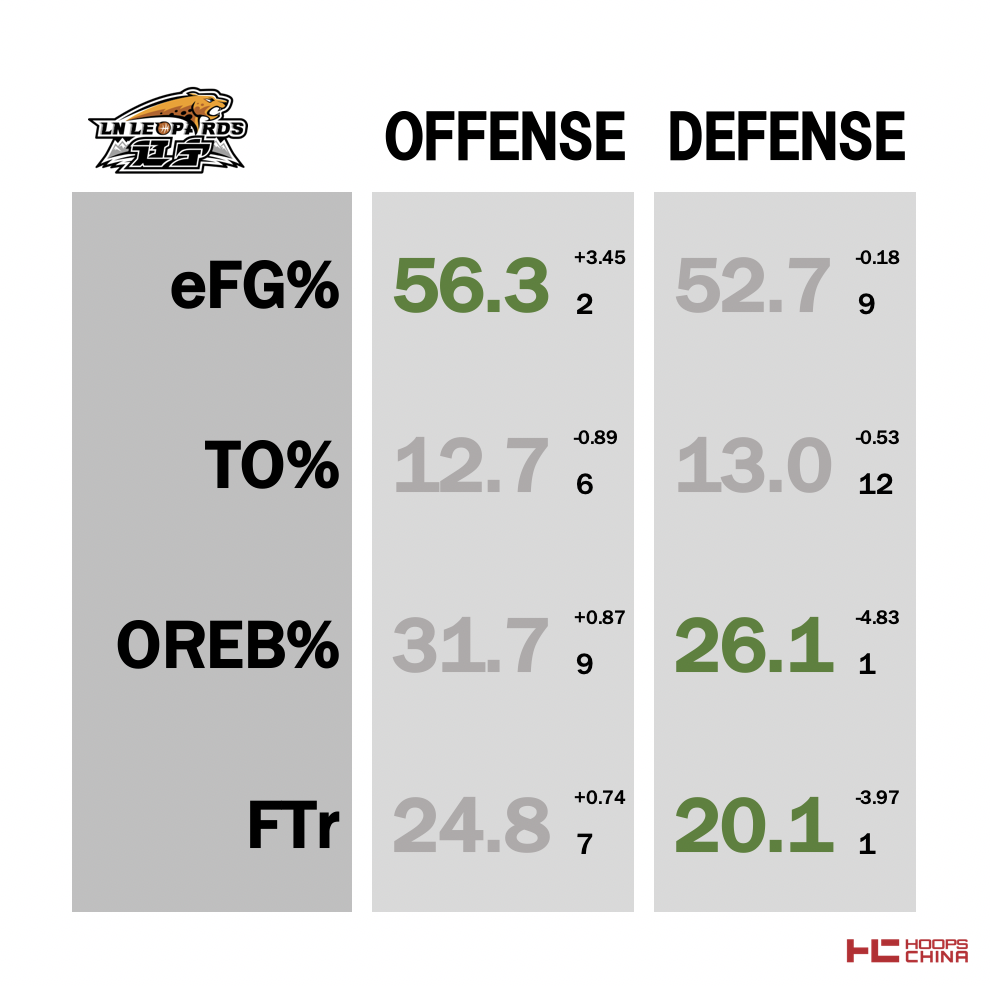 The key to Liaoning's offense is the Guo Ailun and Han Dejun pick and roll. Whether it's Guo getting to the rim, kicking out to shooters, or hitting Han for the lob of drop-off pass, their offense is heavily based on this action, with a sizable amount of isolations and transitions in the mix where guards Guo Ailun and Zhao Jiwei can break opposing defense down off the dribble and create for themselves. Between their guards getting to the rim and Han Dejun dominating in the paint, many of Liaoning's shot attempts come at the rim, where they convert a high percentage.

Defensively Liaoning plays a lot of drop coverage in the pick and roll with Han Dejun. This leads to opponents taking a lot of poor quality mid range shots against Liaoning, but sometimes allows them to get burned by elite scoring import guards operating the high ball screen. Han Dejun's presence by the rim is also a major deterrent there, as Liaoning gives up less shot attempts at the rim compared to most teams, and allows their guards to apply a lot of pressure defense, knowing Han has their back and opposing teams will settle for inefficient mid range jump shots.

Outlook
Liaoning will return with one of the best domestic rosters in the CBA this season. Their advantages should be amplified even further with the lack of imports in the league this season. Center Han Dejun, guards Guo Ailun and Zhao Jiwei are top of the class domestic players at their positions, and should be able to dominate most competition without having to hold their own against opposing imports. Guard OJ Mayo, who quickly developed a solid chemistry with Liaoning's domestic talent, will return and bring some added stability. Despite the huge advantage of Han Dejun at center, that position is also the team's only potential weakness, as they lack any depth at the position. The problem maybe amplified as the team neglected to sign an import big to pair with Han, instead opting to sign Jonathon Simmons, a second shooting guard to go along with OJ Mayo. Recognizing this shortcoming, Liaoning traded backup guard Gao Shiyan to Shandong in exchange for backup center Zhu Rongzhen, a questionable trade since Gao Shiyan is one of the better perimeter defenders in the entire league, while Zhu Rongzhen, although possessing good height and length, had not impressed in listed minutes at Shandong. The other big news for Liaoning roster is the addition of heralded prospect Zhang Zhenlin. A Liaoning native, he developed ilhis game in America, playing for top High Schools and two years for NCAA Division 1 team Tulane before returning to China this season. He possesses elite athleticism and an impressive skillset for a wing player in addition to the size and strength to play some minutes at power forward. Kevin should experience some up and downs in a new league and new role, but his talent is undeniable and his ceiling is extremely high. He will make an immediate positive impact and don't be surprised if he has national team level production in his rookie season. The CBA new rules this season limiting import minutes plays to Liaoning's strength. Expect them to take full advantage, cementing their spot near the top of the CBA standings and competing for a championship again this year.