The NBA has gone away form the post-up and only some teams with the best offensive big men will even try to feed the post once in a while, as all teams have increased their outside shooting and pick and roll offense. As offenses from the perimeter by guards is far more efficient than feeding it inside. Looking at NBA data, between 2005 and 2010 the average team posted up over 10% of the time, which means if a game had 100 possessions the team had a player post up at least 10 times a game. Fast forward to 2020, and the number has dropped to 4.7%, an all time low in NBA history. The Philadelphia 76ers post up the most with 11.6% of plays resulting in Post ups (Because of Joel Embiid), and the Brooklyn Nets are the lowest with only 0.4% Post up this past season, only attempting 27 total shots in the post during the entire 72 games.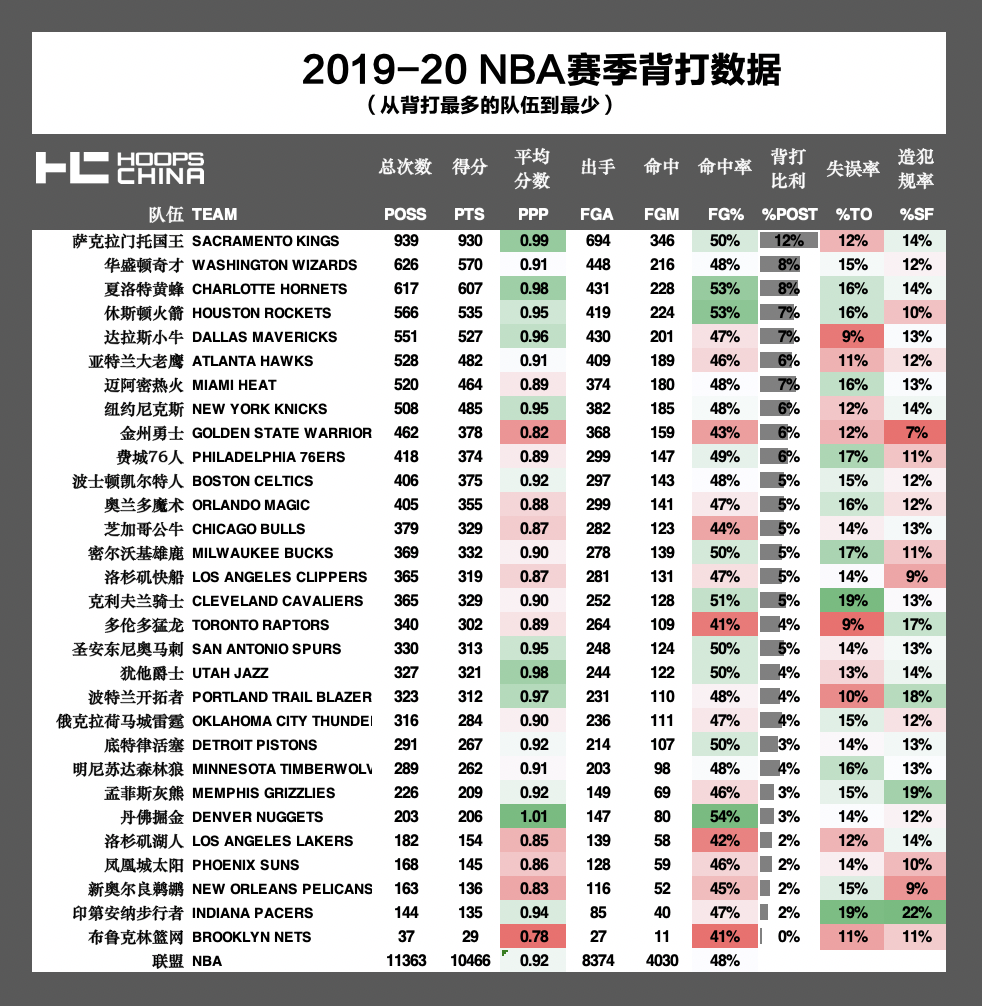 Shouldn't all tall players post up? The answer is no, unless you are Joel Embiid.
Joel Embiid posted up the most in the NBA this 2019/20 season, 37.2% of all his plays where Post Ups and he scored 471 Points out of 429 Attempts, resulting in a very efficient 1.10 PPP. He posts up the most and also is the most efficient in the NBA.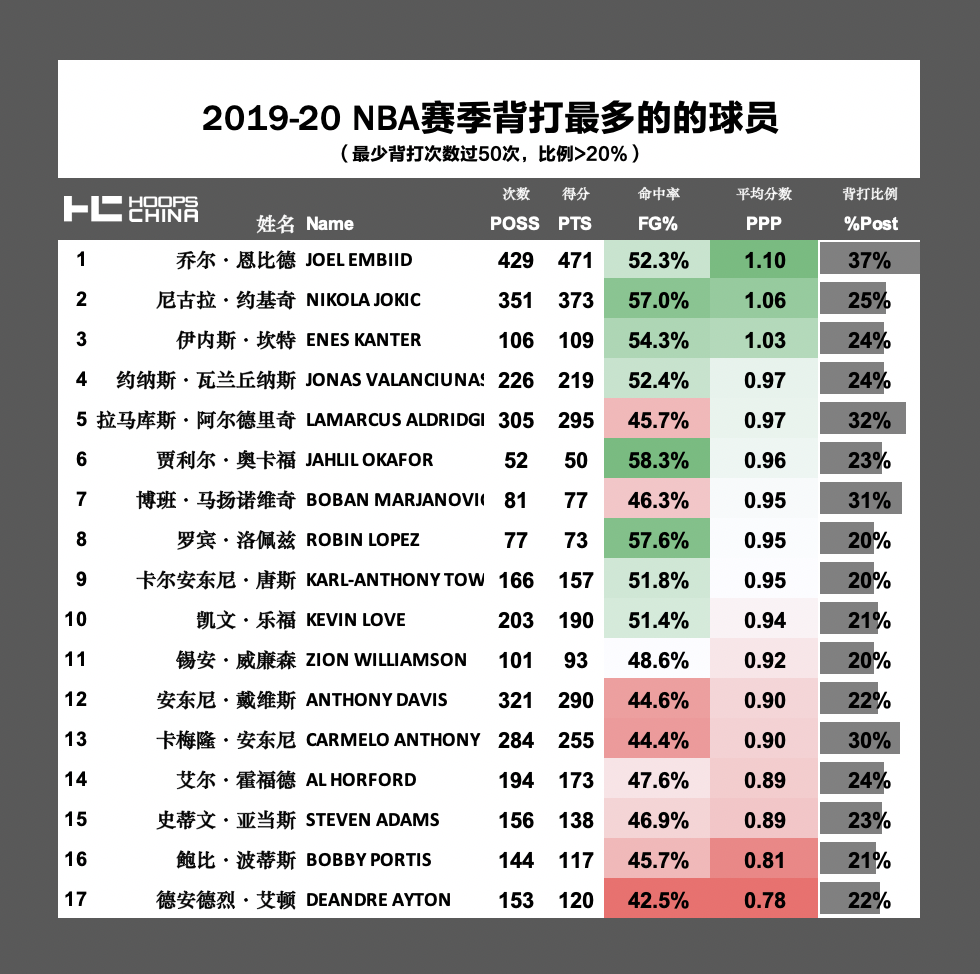 To give a good example of a very tall player that is really bad posting up lets look at Kristaps Porzingis of the Dallas Mavericks, he stands 2.21m but is a much better shooter than he is a post up player. He does post up 15.2% of the time but only scored 140 points in 173 possessions, resulting in a horrendous 0.81 PPP. During an interview in January of 2020 Rick Carlisle stated: "A post-up is not a good play anymore. It's just not a good play. It's not a good play for a 7-foot-3 guy. It's a low-value situation." In response to Charles Barkley saying he should post up more. Facts and numbers prove that Carlisle is right and that we should think twice before listening to Charles Barkley.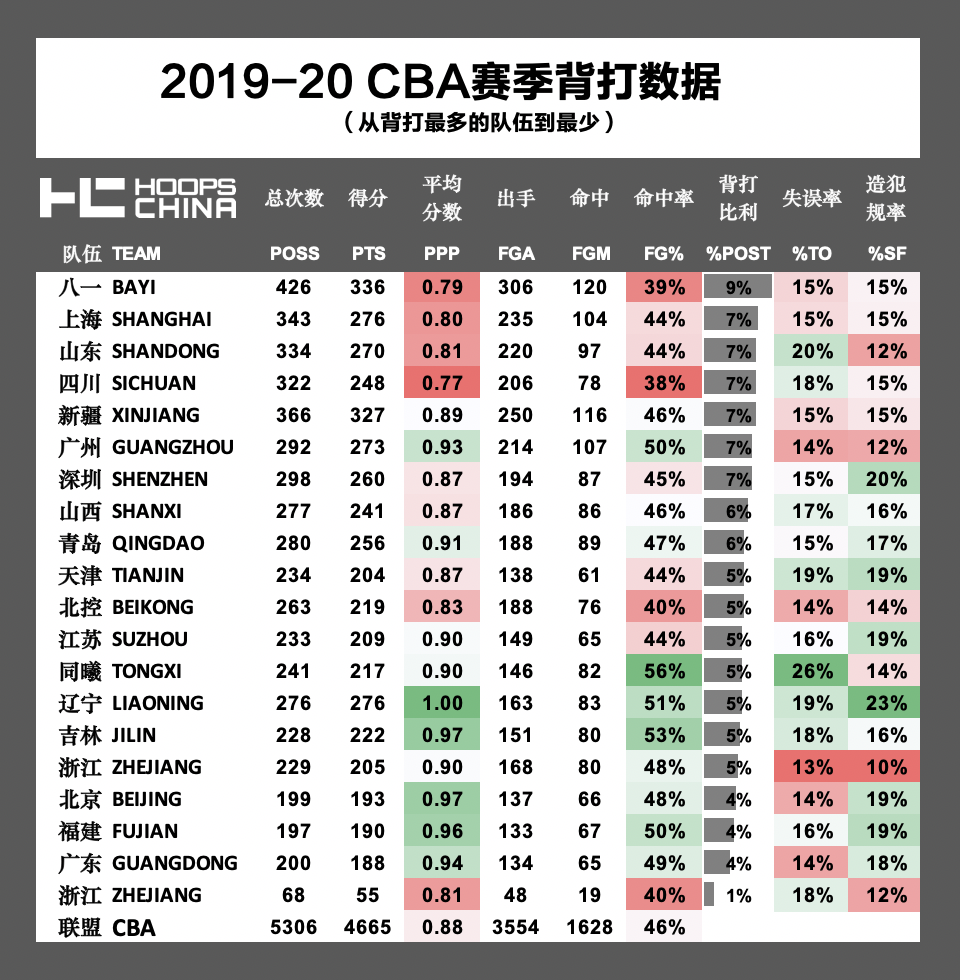 Now let's look at the CBA, during the 2019/20 Season the team that posted up the most frequently were the now disbanded Bayi Rockets. They posed up 9.2% of the time only scoring 336 points in 426 possessions, resulting in a very poor 0.79 PPP. Maybe also the reason they finished in last place. Did Wang Zhizhi do this on purpose and is he a bad coach because of it? It looks like although both were former top players, Wang Zhizhi and Charles Barkley are both left behind in the modern basketball era and need to change their mindset.
The Zhejiang Bulls posted up by far the least at only 1.4%, scoring 55 points in 68 possessions resulting in 0.81 PPP, a smart team that had Wu Qian run most their offense.
Overall the Post Up play type is the least efficient play type in the CBA at 0.88 PPP, which is clearly worse than the average CBA offense which was 1.10 PPP during the 2019/20 season.
Looking at players in the CBA that posted up more than 50 times during the 2019/20 season.
Zou Yuchen was the player with the highest post up rate at 29.3%, posting up 58 times and scoring 53 points, resulting in 0.91 PPP.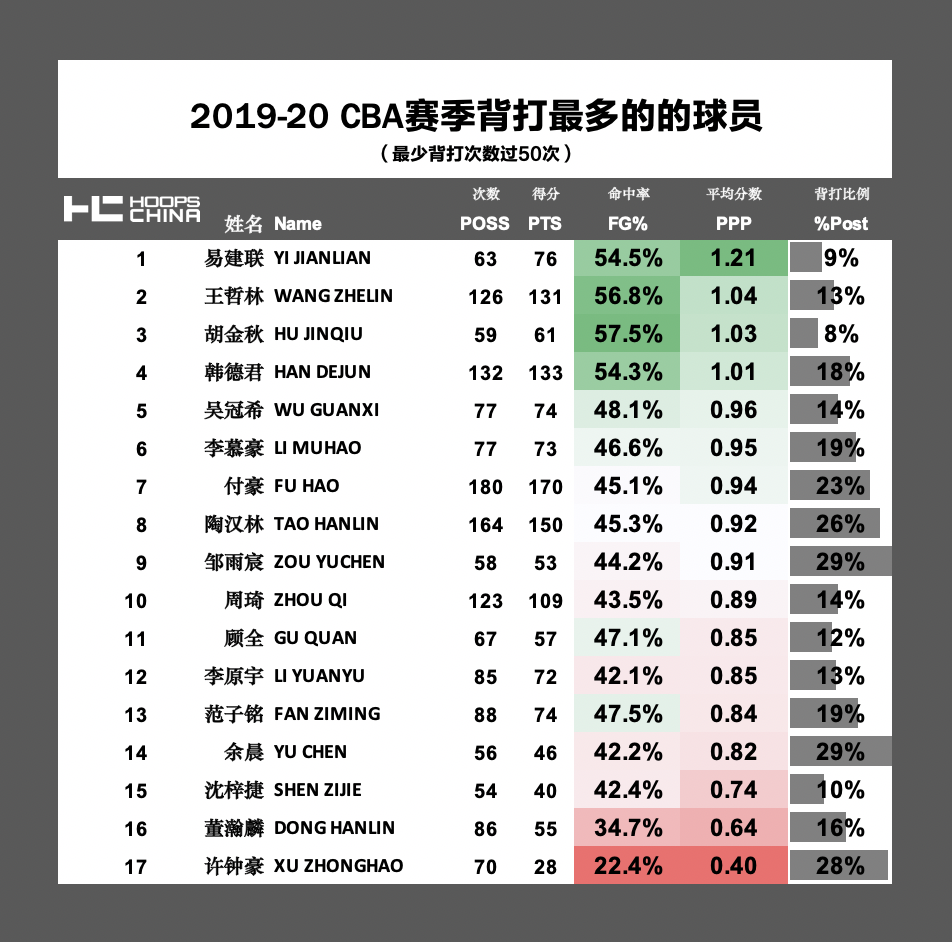 The top 3 post up players in China are Yi Jianlian, Wang Zhelin, and Han Dejun. Yi Jianlian posts up only 9.1% of the time, but scored 76 points in 63 possessions, resulting in a super efficient 1.21 PPP, even higher than Joel Embiid, but of course against much weaker defense and nearly as much. Wang Zhelin, who posts up 12.5% of the time, scored 131 points in 126 possessions resulting in a very respectable 1.04 PPP. Han Dejun posts up a bit more at 17.5% of the time, scoring 133 points in 132 possessions, resulting in 1.01 PPP.
The worst post up player in China is Xu Zhonghao of the Bayi Rockets, who posted up 28% of his offensive possessions resulting in 70 attempts, but only scoring 28 points, resulting in a shockingly bad 0.4 PPP. In more detail, he only made 22.4% of his shots and turned it over 21.4% when posting up, part of the reason why Bayi has been the worst team in the league.
We want to focus on the Chinese players but will mention that many import players are between 1.00 and 1.10 PPP as they are obviously overall better players in this league.
In conclusion we can see that as we predicted the CBA is no different than the NBA and the post up is a very inefficient type of offense. The Post up is actually even worse in the CBA at 0.88 PPP compared to 0.92 in the NBA.
Further discussion: Would the post up still be a bad play if there was no help defense? How many misses or turnovers are because of team defense and teammates coming over to trap or dig the post up?
The Post up may be an inefficient type of offense in the CBA but what about other leagues in China? We want to research the CUBA in the future as we predict the post up is  still an inefficient play type. But at the Highschool level we predict it to be much more efficient compared to other players types because lack of shooting ability. In high level wildball we predict it to be a good play type because outside shooting can a challenge with inconsistent balls being used, inconsistent rims and even sometimes having to shoot with wind if games are outdoors.
低位背打在CBA中是好的进攻选择吗?
NBA球队在进攻端已经越来越少的选择低位背打,只有一些拥有最好进攻内线球员的球队会偶尔尝试把球给到低位,所有球队的精力主要都放在增加三分出手次数和后卫自主进攻上,因为后卫在外线发动进攻远比低位进攻更有效率。我们首先看一下NBA数据,在2005年-2010年,平均每支球队低位背打占全部进攻的比例超过10%,这意味着每场比赛100回合中,每支球队使用低位背打超过十次;到了2020年,这项数据跌至4.7%,为NBA史上最低。上个赛季中,拥有恩比德的费城76人队低位背打占比11.6%,为全联盟最高;布鲁克林篮网队的低位背打占比最少,仅为0.4%,他们在全部72场比赛中只有27次低位进攻。
在一些人的印象里,难道不是所有大个球员都应该选择低位背打吗?这个问题的答案是否定的,除非你是恩比德。
恩比德在NBA2019-2020赛季中是使用低位背打次数最多的球员,占他全部进攻方式的37.2%,有429次低位进攻,共得到471分,平均每回合得分为1.10PPP。恩比德是NBA中使用低位背打最多且最有效率的球员,这种情况非常少见。
举一个大个球员但不擅长低位背打的例子,我们可以看看达拉斯小牛队的波尔津吉斯,他身高2.21米,但他的投篮要比低位背打出色得多。波尔津吉斯低位背打的比例也曾高达15.2%,但效率很低,在173个回合中仅得140分,平均每回合得分仅为0.81PPP。2020年1月,小牛队主教练卡莱尔在采访中表示:"低位背打已不再是一种好的打法了,对于2.2米身高的球员而言也同样如此,这是一种低效率的情况。" 这也是卡莱尔对于查尔斯巴克利发表波尔津吉斯应该更多地选择低位背打言论的回应,实际情况和数据均证明卡莱尔的观点是正确的。
现在我们把目光转向CBA,在CBA 2019-20赛季中,联盟中使用低位背打次数最多的球队是已经退出CBA的八一队。他们的低位背打占全部进攻的9.2%,在429个回合中得到336分,平均每回合得分仅为0.79PPP,这也许是造成他们上赛季成绩垫底的原因之一。时任主教练王治郅是故意设计的战术吗,他是一名糟糕的教练吗?王治郅和巴克利身为球员时水平毋庸置疑,但由于他们未能跟上现代篮球的脚步,需要改变自己的思维模式。
本赛季截至目前,浙江队的低位背打仅占全部进攻的1.4%,在68个回合中得到55分,平均每回合得分为0.81PPP,这支球队非常明智,由吴前来处理球队大部分的进攻。
下面我们来看看CBA2019-20赛季中低位背打超过50次的球员:
邹雨宸的低位背打占比在联盟中是最高的,占他全部进攻方式的29.3%,使用低位背打次数为58次,共得到53分,平均每回合得分为0.91PPP。
联盟中低位背打效率最高的4位球员是易建联、王哲林、胡金秋和韩德君。易建联的低位背打仅占他全部进攻的9.1%,但在63个回合中得到76分,平均每回合得分为1.21PPP,极具效率,甚至比恩比德还高,当然易建联面对的防守强度要低得多。王哲林的低位背打占其全部进攻的12.5%,在126个回合中得到131分,平均每回合得分达到1.04PPP,也相当出色;胡金秋的低位背打比例很低,为8%,但他的命中率相当不错,59个回合中得到61分,平均每回合得分为1.03PPP ;韩德君的低位背打占比稍高,为17.5%,他在132个回合中得到133分,平均每回合得分为1.01PPP。
而低位背打效率最低的球员为前八一队球员许钟豪,上赛季低位背打占他全部进攻的28%,在70个回合中得到28分,平均每回合得分仅为0.4PPP,这项数据低的惊人;许钟豪背打时的投篮命中率为22.4%,在他低位背打时失误率为21.4%,这可能也是八一队在联盟垫底的原因之一。
我们想在本篇文章中主要探讨中国球员,但要提及的是,很多外援的低位背打平均每回合得分在1.00PPP到1.10PPP之间,也说明这些CBA外援低位背打水平更高。
总的来说, 我们可以看出CBA与NBA在低位背打方面会越发接近,因为低位背打是一种效率很低的进攻方式。在CBA低位背打的平均每回合得分为0.88PPP,比在NBA的0.92PPP更低,说明CBA的背打效率比NBA还要差。
进一步的讨论:
如果没有协防,那么低位背打还会是不好的进攻选择吗?在低位背打时有多少投失和失误是由于包夹防守和协防造成的?在路人王一对一的比赛中,背打是好的进攻吗?
低位背打也许在CBA中效率不高,但在中国其他联赛又会是怎样呢?我们想在未来深入研究CUBA联赛,但我们初步预测在CUBA中低位背打的效率也会偏低。在高中联赛中,由于球员投篮能力不足,低位背打也许会比其他进攻方式要有效率;在高水平野球比赛中,我们预测低位背打会是不错的进攻方式,因为外线投篮会是一个挑战,因为在野球比赛中,场地、球、篮筐都有一些不确定性,都会影响投篮。最后,欢迎大家在评论区与我们进一步探讨和交流。