Review:
One of the worst teams in the CBA last season, Guangzhou had a really bad season and heavily underperformed. The teams defense looked totally lost from the first game of the season getting blown out at home. With lack of defensive structure and clarity it was hard to even identify clear pick and roll coverages and rotations which resulted in one of the worst team defenses we have observed. After a series of import switches that resulted in having no guard import, the team suffered a long losing streak where at times the team seemed uninterested in winning. Best defensive player on the team Guo Kai went down early with an injury that would force him to miss most the season, leaving the team with only bigs that where incapable of defending the pick and roll or protecting the rim. Offensively the team was a great 3-point shooting team with bigs that could stretch the floor which was very difficult to guard for most opponents. Zheng Zhun and Andrew Nicholson had good offensive seasons, but both were part of the reason for the poor defense as well. Their best local guard Ray Chen had a bad season mainly because he was asked to be the teams main scoring option and was forced to make tough plays.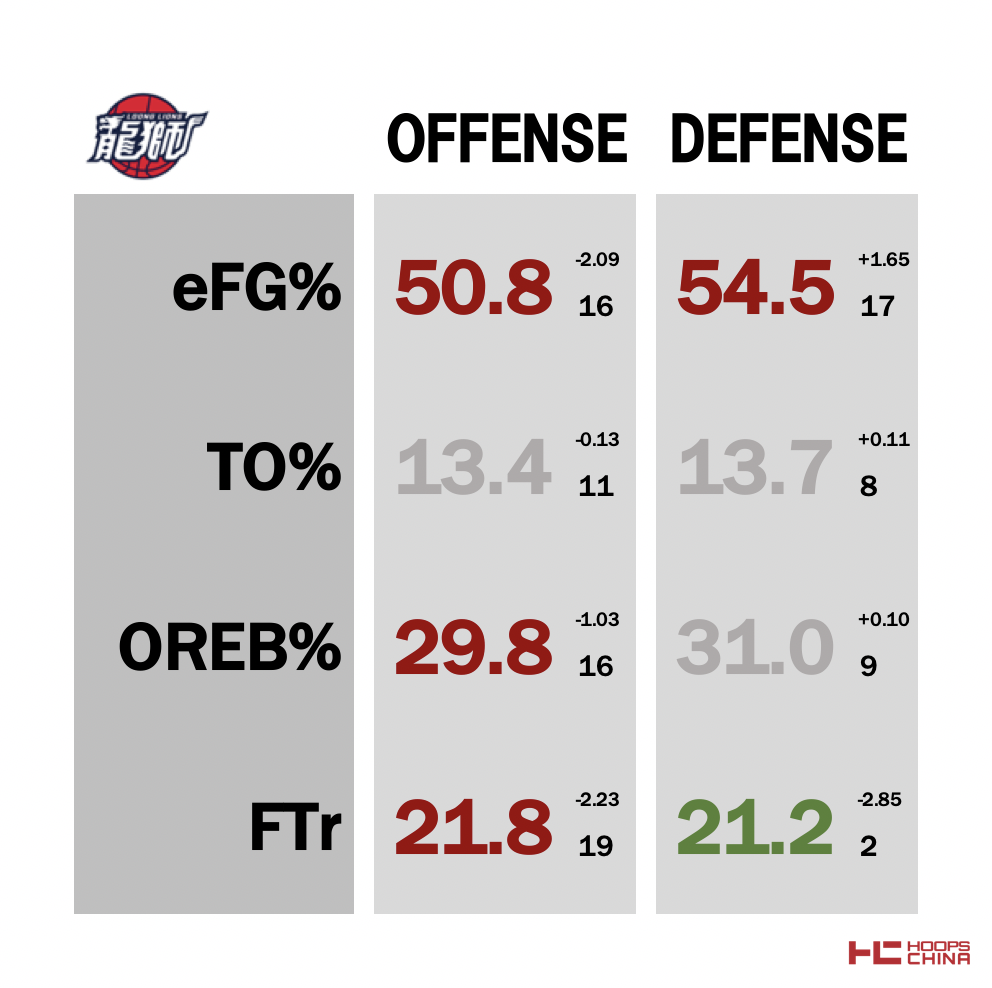 Guangzhou's offense was league average mostly because of good 3-point shooting, which also leads to low turnovers as shooting teams generally turn the ball over less. Also related to being a shooting team they ranked last in free-throw rate in the league, as they just don't attack the rim to draw fouls. They are clearly a very poor rebounding team on both ends of the floor ranking amongst worst in the league, which results in consistent extra scoring chances for the opposing team. But most importantly on the defensive side of the floor, where they ranked bottom of the league in every category. A team that gives up open shots, doesn't force turnovers, gives up a lot of offensive rebounds and allows opposing to get to the line is bound to have one of the worst defenses in the league.

Again its worth noting their great 3-point shooting, this mainly comes from their bigs, Zheng Zhun and Andrew Nicholson. But just as good the team is in 3-point shooting, they allow their opponents to also shoot a high percentage against. Related to poor coaching, this team took a very high volume of mid-range jumpers heavily reducing their offensive efficiency. But most importantly they were one of the worst rim protection teams in the league, which we have found to be extremely correlated to wins and losses. Two of their rotation bigs Zhang Yongpeng and Sun Mingyang both rank amongst the worst rim protecting bigs in the CBA (see article)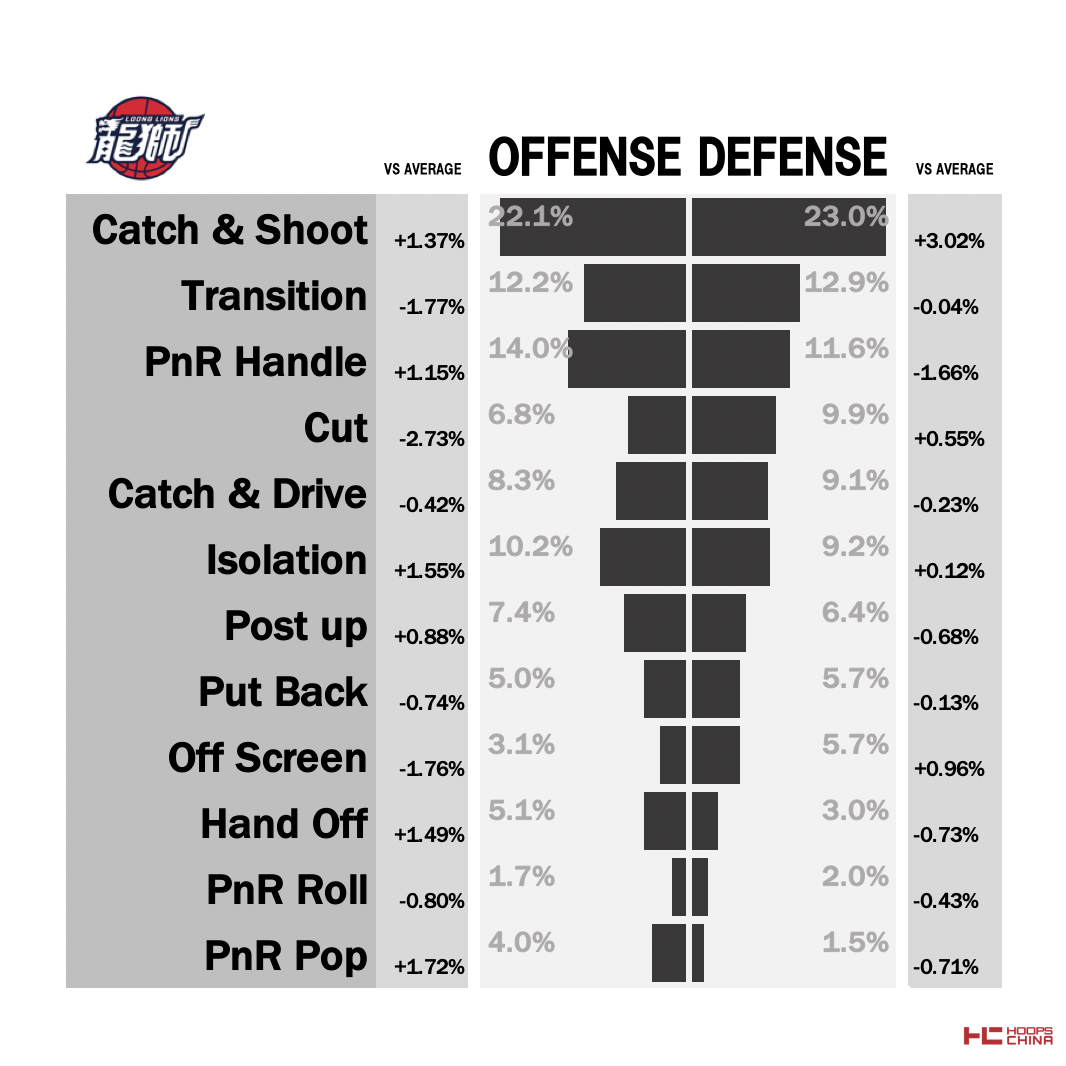 Because the team had amongst the best big man shooters in the league with Zheng Zhun and Andrew Nicholson they ran the pick and pop more than any other team in the CBA, also with the most efficiency, something they should have done even more. They rarely created drop-off baskets at the rim, mainly due to not being able to penetrate the defense often, which is shown by a low volume of cuts. This also leads to the high volume of isolation possessions which is not intentional, but in their case just an inability to create a good shot, therefore forcing shots in isolation late in the shot clock. On defensive end it is clear to see poor perimeter defenders who get blown by easily and often thus forcing help defense and rotation, leaving open shooters out on the perimeter shown by very high volume of catch & shoot opportunities by opponents.

Outlook:
With the team finishing in the bottom 3 last season, they will be allowed to play one import an extra quarter compared to the rest of the league. The core of the roster remains the same with minor additions of Han Delong and Zhu Mingzhen, both whom we don't expect will be able to make a positive impact this season. Young players Sun Haofeng and Zhao Yanman coming over from Beijing should not get much playing time. Non impact player Heng Yifeng transferred to Tongxi which relieves some salary cap space and is a good move for them. The team sold loan returnee Fan Ziming, who would have been a positive impact having improved after his two seasons on loan at Xinjiang, which remains a questionable move for a team with limited assets not getting any assets back in return. Dallas Moore replaces Georges Hunt/Kiefer Sykes, who is recognized as lower level player in Europe than the players he's replacing. Issac Haas will only see limited playing time because of import on court rules. Marreese Speights has already proven to be amongst the worst imports in the CBA is a poor signing for Guangzhou, leaving the team with very minor advantages even with the extra quarter rule. With the team heavily underachieving last season, their record should improve slightly. The overall defense should improve as the teams best defender Guo Kai return from Injury, and a new Head Coach could possibly improve the lack of effort this team has shown defensively last season. Although historically research has shown that coaching does not improve teams, players do, which Guangzhou has failed to do this season, therefore will only see a small improvement in final standings and they will fall short of making the playoffs once again.