Review:
After an abysmal 2018-19 season, Beikong made a splash by signing new head coach Stephon Marbury. Marbury is a CBA legend and local Beijing hero who built a dynasty playing for the Beijing Shougang team. The team made several key signings, including veteran power forward Sun Tonglin, journeyman backup guard Wang Zirui, and used their first overall pick in the CBA Draft to pick CUBA MVP power forward Wang Xiaojie. However the biggest player news was the reunion of Marbury and former teammate Sun Yue. After a two year sabbatical, CBA and NBA champion Sun Yue returned to the CBA to play for his old teammate. Rounding out their roster with top tier import guard Kyle Fogg, CBA Veteran Asian Import Sani Sakkakini, and a carousel of bigs, the new-look team reached their goal of making the playoffs in Marbury's first year. The finished the season with a 29-17 record, good for 7th place.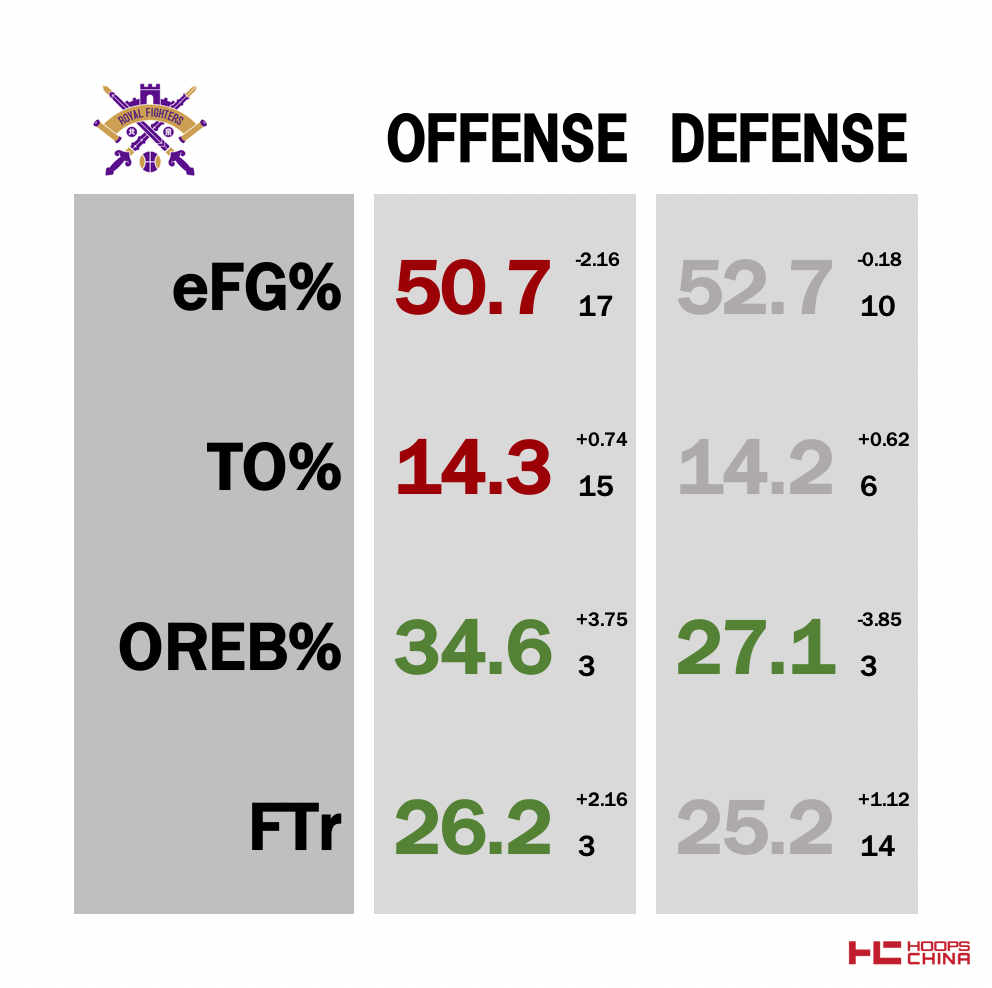 Although the team lacked ideal shooting and spacing, they shared the ball and frequently had many playmakers on the court at once. A byproduct of this heavy team offense and ball movement was a slightly higher than average turnover rate. They countered this shooting deficiency by relentlessly crashing the offensive boards with a stable roster of bigs and rebounding guards to gather up second chance opportunities from missed shots. Overall Beikong was one of the best rebounding teams in the league. Additionally, import guard Kyle Fogg was able to create offense and caused serious problems for opposing teams, getting into the lane and to the foul line almost at will which helped the team finish with one of the best Free Throw Rates in the CBA.
Although lack of shooting kept the offense slightly below league average, their defense was well above average, thanks in large part to holding the opponents to only one shot attempt by excelling on the defensive boards, as well as forcing a good number of turnovers mainly thanks to great defensive efforts of Kyle Fogg.

As stated before Beikong was not a good outside shooting team, but they did do a good job finishing at the rim. It must be stated they did not have good shot selection as they attempted more mid-range jumpers than any other team in the league, which is always a low efficiency shot anywhere in the world.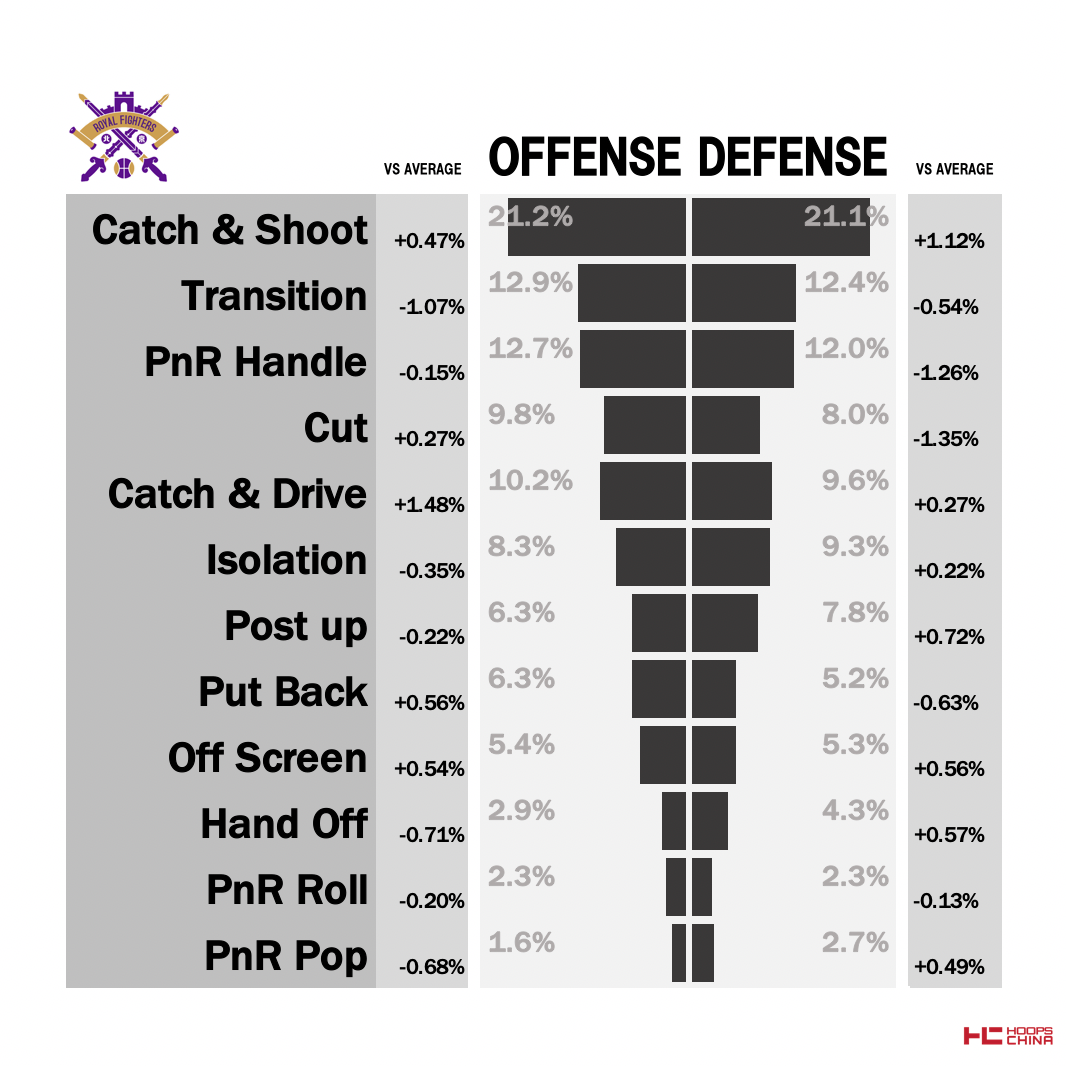 Offensively we can clearly see that this is slashing team that wants to get to the basket and finish inside. They excel rebounding the ball and finishing second chance opportunities as well as attack closeouts and finish at the rim. We also see patterns that show a good defensive team, forcing opponents into a lot of isolation and post up opportunities, both which are low efficiency play types and usually late shot clock shots.

Outlook:
Beikong continued to upgrade its domestic roster this past offseason. Another former teammate of Marbury, Li Gen, and stretch four Yu Changdong will both suit up for the Royal Fighters this coming season. Li Gen underperformed last season in Shanghai, but we predict has a much better season under Marbury if he can stay healthy. He possesses elite three point shooting and can punish smaller defenders in the post. Rounding out the domestic signings is wingman Hou Yifan who could come in off the bench and earn his minutes. The main domestic departure was Zong Zhun, who had good games last season but should not be missed too much as they have better players at his position. Gao Shang will not be missed and is smart salary dump. The team will certainly miss the advantage they had last season from Asian import Sani Sakakini, and departure of import guard Kyle Fogg, an elite two-way player will leave big shoes to fill for newcomer Joseph Young. Salah Mejri will be an upgrade on their import big position, although he won't be able to bring too much additional value as only 1 import can play at a time, and we expect that to be Joseph Young. Mainly because of losing the Asian Rule spot Beikong will be overall slightly worse than last season. That said, they have done an excellent job reinforcing their domestic roster, therefore only dropping slightly. Overall we expect Marbury to lead this team to another playoff finish.